How did you decide to make a career in communications?
I was born in Kyiv, and when I was nine years old, my family relocated to Kharkiv due to my father's tech job opportunity there.
My family is wonderful, and my parents have always been supportive of my endeavors.
After graduating High school at the age of 16, I had to decide which profession to pursue. My father actually helped me choose a career that aligned with my skills and interests. In 2005, Public Relations (PR) was a relatively new field in Ukraine, and we saw that it was an area for growth as it was a big industry in the US and Europe already. Many people at that time were unsure if PR was a type of advertising.
I did my Bachelor in PR at the State Academy of Culture and Masters in Media Communications in Kharkiv's University. Those were the second and the first cohorts to graduate from that department. Since there were no PR agencies in Kharkiv in 2005, I sought out internships at PR agencies in Kyiv to gain experience. Following these internships, I gained additional experience at TV channels and other PR agencies.
In 2009, I moved to Kyiv to take a full-time job as an Executive Event Manager at a communications agency.
Where do your parents live now and how is your family?
My parents still live and stay in Kharkiv. My mom is a real estate agent and my dad manages Google ads for a small cosmetic company. In addition to their professional roles, they actively volunteer at the Orthodox church of Ukraine. On weekends and holidays, my mother serves as a cook while my father serves as a bell-ringer. They began volunteering at the church in 2014, when the war in Ukraine began.
What did your life look like before the war?
Life was full of exciting adventures, including traveling, pursuing hobbies, and spending time with friends. Russia invaded Ukraine while my colleague Irina Shymko and I were attending a conference in Dubai. At the conference, we had a booth, which was my first experience representing Datuum.ai as a startup PR manager. The event was attended by approximately 10,000 people. My boyfriend accompanied me to Dubai, we planned to attend Expo 2022 after the event
Post on Linkedin on February 23, before everything changed.
On February 21, the evening before our flight, we heard Russia's President deny the legitimacy of Ukraine's existence, claiming it was invented by Lenin, among other fake statements.
We thought Russia was planning to seize control of the Donbass administrative area, we did not anticipate a full-scale invasion.
Sadly, my boyfriend's parents reside in a town near Donetsk, which is now occupied by Russian forces. As a result, approximately 80% of the town has been destroyed. Despite the danger, his parents refused to abandon their home and a small farm and remain there to this day. We are in touch.
How did you experience the beginning of the war?
On February 24th, my boyfriend's sister called us early in the morning with distressing news. She resided in the northern part of Kharkiv, where the initial missiles had begun to hit. She said: "They are shelling our houses!".
We advised her to seek refuge at my parents' home, which had a cellar.
Despite our insistence that they leave Kharkiv, my parents chose to stay put. As a result, our ten relatives, along with their pets, sought refuge at my parents' house and remained there for a month.
This situation exemplifies the resilience and solidarity of the Ukrainian people in times of crisis. In the face of danger, we come together and support one another. This is a tremendous strength and a source of empowerment for us.
How was it like being in Dubai while your country is getting invaded?
I was completely distracted. We found ourselves constantly consuming news, glued to our phones and searching for reports about Kharkiv and other locations where our loved ones resided. Our friends reached out through chat, conveying stories of panic and the deafening sounds of shelling in Kharkiv and Kyiv.
As we struggled to cope with the overwhelming situation, we realized we needed to shift our focus. We decided to continue working on the last day of the conference. Iryna and I took turns reading news and pitching on the booth that day. The participants around provided us with support, which we were grateful for..
We still didn't know what to do and where to go next.
Was staying in Dubai an option?
We couldn't stay in Dubai forever. But we did not know how long the war would take. We expected to come back home in a couple of weeks and it was definitely easier to go to Ukraine from Europe. I reached out to our family friend in Germany, seeking a temporary accommodation stay for my boyfriend and I and maybe for our parents later on.
She warmly welcomed us.
Arriving in Germany in February, we were unprepared for the weather, having brought only swimsuits in our suitcase. In fact, the warmest clothing item I had was a hoodie..
How did you join the Ukrainian PR Army?
I was one of the alumni of an online course on international PR taught by Julia Petryk, Head of PR at MacPaw. Our group had a chat on Telegram where we shared news and asked for advice. On February 24th, someone in our alumni chat suggested blocking Russian propaganda channels to prevent the spread of fake news about the ongoing war. This was a time when I needed a useful routine to avoid panicking and actually do something to help stop the war.
The next day we decided to use our expertise in communication to spread the truth about Russia's war against Ukraine. We started with our own accounts in social media telling what's happening, contacted journalists, etc.
Initially, we used Telegram, but as our group grew to almost 400 people in just ten days, we transitioned to Slack.
Ukrainian PR Army, core team
The decision to switch to Slack was also driven by concerns about cybersecurity. With our Telegram chat, we had no control over who was able to join. In fact, some of us even received threats from Russians. To ensure the safety and security of our communication, we implemented a process using a Google form to verify the identity of anyone who wanted to join our Slack space before granting them access.
What was women's day for you last year and what are some things that impressed you about Ukrainian women?
We were striving for victory in Ukraine.
Women played a crucial role in defending their rights, freedoms, and democratic values amidst war. Many have fled with their children to escape violence, while others courageously volunteered for people who fled from occupied territories, some of them took weapons in their hands, some became mothers in the shelters that day.
Despite the challenges, Ukrainian women have shown remarkable strength, resilience, and adaptability. I aimed to highlight their heroic stories, including a girl who rescued abandoned pets in Irpin. We already had human rights violated by the Russian army since February 24, 2022. We saw that The Declaration on the Protection of Women and Children in Emergency and Armed Conflict adopted by the United Nations in 1974 has no authority among Russian occupiers. We already had proof of destruction, shelling, the bombing of civilian objects, residential areas, maternity hospitals, children's hospitals, schools, orphanages, evacuation buses, and civil vehicles by the Russian army. We called for global support for Ukrainian women.
Has the image of the Ukrainian woman changed since the invasion began?
I hope that the world is now able to see the resilience, kindness and gratitude of Ukrainian women. So many inventive and creative women left Ukraine. Some of them are realizing their potential in Europe already.
So many members of the Ukrainian Tech scene are in Europe now, promoting the Ukrainian tech ecosystem there. I think it's a time when all the world learns more about our nation, culture, and resilience.
What is the Ukrainian PR Army and what do you do as a volunteer coordinator?
Today "PR Army" is an independent non-profit organization of Ukrainian communication experts that shares the truth about the war with the global community and builds a proven image of Ukraine as a democratic and independent European country.
During more than twelve months our team has been promoting Ukrainian voices globally by providing contact with war witnesses, Ukrainian experts, and the government on the spot and online, organizing interviews for the press and TV, creating opinion pieces co-authored by Ukrainian and international experts, tracking and tackling Russian disinformation and propaganda with the means of PR and technology, etc.
PR Army recently has launched a global campaign "Where are our people?" – aimed at uncovering Russia's planned policy of forcible deportations of Ukrainians. The United Nations estimates that there are 2.5 million Ukrainians who have been forcibly deported to Russia and there are thousands of children among them.
As a co-founder and coordinator I'm responsible for nuclear and food safety topics,shaping messages, highlighting the news there, organizing interviews with Ukrainian experts and officials.
What do you do as a coordinator of Food safety, Nuclear safety topics?
I've never been related to those topics in my peaceful life. But when Russian occupiers seized the Chernobyl nuclear power plant with weapons, it was a shocking violation of international law and nuclear safety. I helped to publicize this act of nuclear terrorism and the dangerous actions of Russian militias on the NPP's territory.
We shared this news with European and American journalists and organized an online conference about nuclear safety. There were 70 journalists and people interested in the topic who attended. Our goal was to discuss the situation and possible consequences, and call for the International Atomic Energy Agency to take action as it is their responsibility to maintain nuclear safety in Ukraine.
Within a couple of days, Russian armed forces also shelled and seized the Zaporizhzhya NPP, the largest nuclear power plant in Europe.
We continue to work on this issue as the Russian militias still occupy the NPP, causing stress to the staff and subjecting them to torture, storage weapons there.
Zaporizhzhya NPP is used as a nuclear blackmail to force the Ukrainian government to accept negotiation on Russian terms. The events unfolding at the plant are unacceptable in a democratic society in 21st century Europe.
The Russian occupation of Ukrainian territories has resulted in war crimes and hunger in African and Middle Eastern countries. Russian forces blocked grain and food exports for almost half a year, while also stealing and looting from farms. We recently shared the story of a farmer in the Kherson region who had planted berries but now has Russian militias living in his house and on his farmland.
Meanwhile the Russian misinformation machine turns facts upside down and accuses Ukraine of all that: blocking grains, shelling NPPs, etc.
What impact does the work of the Ukrainian PR Army have on the battlefield?
Our efforts provide significant support to Ukraine. We deliver important messages to the world that have an impact in backing Ukraine.
And we live in the era of fast connections I would say. You can tag Olaf Scholz, Joe Biden, Ursula von Leyen and ask for help today on Twitter. There was a flash mob in social media to persuade giving Ukraine the Leopards tanks. So people posted pictures in leopard outfits with a #freeleopards.
What surprised you during your work for the Ukrainian PR Army?
I was amazed to see how so many professionals from different industries, who mostly work together virtually and have not met in person, can unite and be effective towards a common goal. Despite our diversity, we are all focused on achieving our objective, and this has been truly inspiring.
The power of the PR Army, that surprised me, when I saw the impact of our PR efforts. For example, our writing and messaging played a role in expediting captured Ukrainians release.
What would surprise us as non-members of the Ukrainian PR Army?
The PR Army may be small in size, but it embodies the spirit of Ukraine and its people. We are a community that demonstrates how Ukrainians can come together to support one another. Through our solidarity, we have weathered challenges and emerged stronger than ever before.
In a peaceful life, Ukrainians can complain about authorities, life, etc. However, adversity has transformed us into a cohesive force. We have come together, like a crystal under pressure, and have proven ourselves to be unbreakable.
Our collective expertise and dedication have resulted in over 5550 publications and appearances in the 2200+ international media (online, TV, radio, podcast, print) in 78 countries.
What do you think you can take from the experience forward in the private sector? What do you use in your work with Datuum.ai?
It is about cooperation and partnership. One person is not strong enough by himself. With partners and cooperation you can gain more.
Does the Ukrainian PR Army use data?
The PR army has partners who help us collect information, analyze narratives and extract insights. We cooperate closely with LetsData, they help us to monitor changing information landscape over the globe, Detector Media helps to monitor propagandistic narratives in the information field, LOOQME – kindly provides us media monitoring, Reply.io providing us support with outreach. We also use classic PR tech tools as Prowly and Muck Rack.
What are your hopes for the future of your country? Your company? You, personally?
I aspire to return to Ukraine soon, where my beloved cat awaits me, my parents, and my friends. Having extensively traveled and resided in Germany for more than a year, my heart yearns to return home.
I see the future of Ukraine as a free, independent, and robust democratic country, and I am doing my best contributing to its prosperity.
Datuum.ai, a Ukrainian-American company, has its headquarters in the US but boasts a team of Ukrainian professionals. Ukraine has emerged as a technology hub, and we are an integral part of its developing tech ecosystem.
The COVID-19 pandemic has underscored the importance of digital transformation, and Datuum.ai can assist companies in saving time and money while also facilitating the scaling of data operations. Failing to automate processes can put you at a disadvantage.
What are some secrets to your success?
I think success lies in the ability to be receptive and cooperative. In today's constantly changing environment, it is crucial to be prepared for any eventuality. Being receptive to forming partnerships and fostering cooperation is vital to boost yourself, your idea, your business .
Who is Liuka Lobarieva?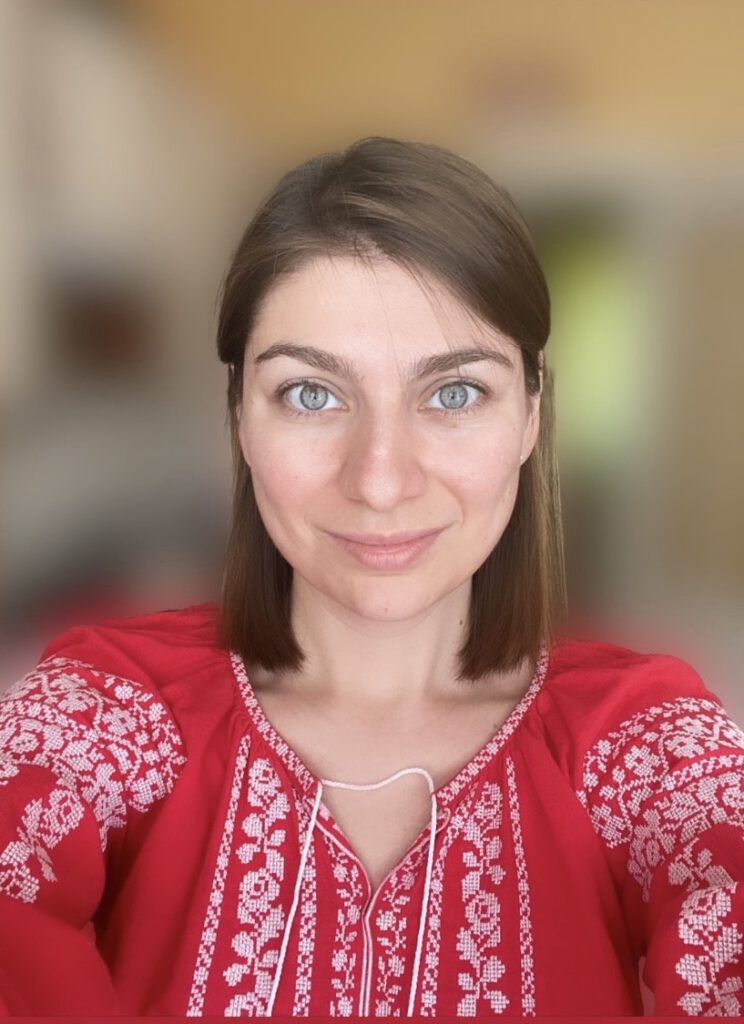 Liuka Lobarieva is a communication professional in tech. PR & Communication Manager at Datuum.ai, co-founder and coordinator at Ukrainian PR Army. Wine and tea lover.
Other articles from the contextualizing the world with data series.
Part 1, Advertising: Why creatives in advertising should embrace data science and data mining – an interview with Les Guessing.
Part 2, Customer Relationship Management: Nurturing the customer relationship with data – an interview with Sarah Carr.
Part 4, Journalism: Solving the experimentation dilemma and growing the New York Times- an interview with Shane Murray.