More big ideas
The world needs more visionaries with big ideas. D3M Labs wants to avail these visionaries the tools they need to successfully go beyond the bounds of the present-day normal. Imagination coupled with brave decisions powered by analytics, executed on scale can and does transform industries, economies and the world. Social networks, the sharing economy, machine learning and more have all fundamentally changed our everyday lives. All of these innovations were brought to us by vision, insight, strategy and excellent execution.
The D3M Labs manifesto is written with the mission to create and scale moments of enlightenment using artificial intelligence (AI).
How D3M Labs adds value to clients can be summarized by the equation for value in the digital economy.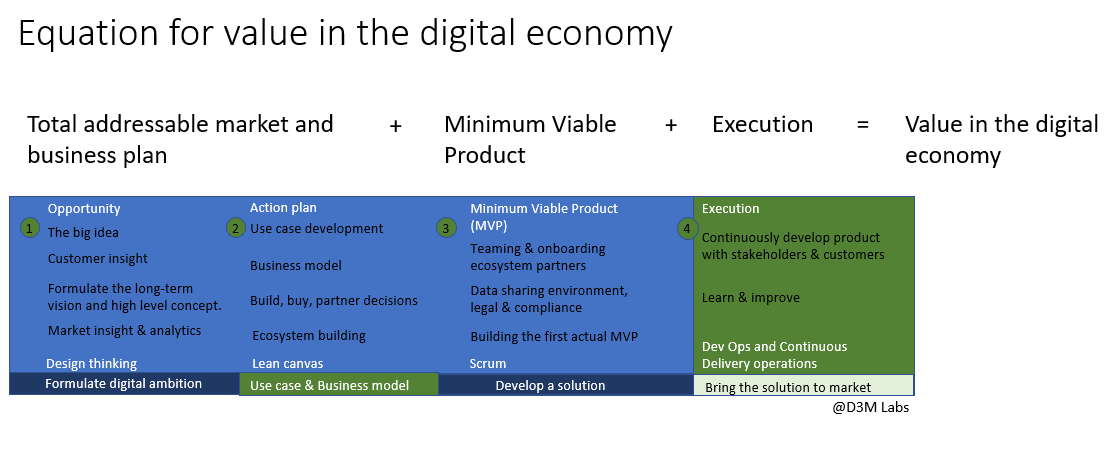 D3M Labs' guiding principles are:
The future belongs to those who create their tomorrow: Beyond strategy, we need to talk about digital ambition. Imagination is at least as important as analytics. Many of us were schooled in Michael Porter's work, which offer brilliant analytical frameworks for strategy based on analyzing an existing industry. Our own innovations can change the landscape of an industry, of growth of an economy, the course of history, thus imagination backed with analytics is potent. The bigger the idea, the bigger the monetization potential. Lets think big and create the analytics to power our ideas and cultivate our strategies. Let's create intelligent automation to make our processes more intuitive and free up our time for connecting with each other, generating ideas and living out innovation.
In the Internet of Everything the right business models can weave data into gold: In a world of inter-connectivity, where products are transformed into services and services are productized, where data is the new oil and our ability to create wisdom is the refinery, where experience is the new strategic differentiator, what can be monetized? What are the cash cows of today and the business models of tomorrow? How can technological innovations and customer experiences be monetized?
Ecosystems of innovation are strategic diffentiators: Products I create usually involve a consortium of partners who co-create, all bringing unique core competencies and knowledge to the project. Customers and markets are constantly evolving; thus, organizations cannot have the best people or the great ideas in-house. A curated network of partners for co-creation, including corporates, investors, startups and research institutes are a decisive competitive advantage for any organization productizing AI. D3M Labs can create partnership frameworks and get you the best partners on board to give you the innovative edge, thanks to our proprietary database and contextual knowledge.
Digitilization projects create products, agile teams build value in the digital age: Line organizations are becoming project teams, which in turn are becoming intrapreneurial product teams within the organization. Development is no longer linear. We live in a world of logarithmic, exponential and otherwise non-linear growth. The best people for the job might not work in your building or even at your company. Teams need to be as dynamic as the market. D3M Labs can architect your organization, draw up the roles and processes to keep you ahead.
With D3M Labs, I have had the privilege of working with amazing clients who have big ideas for their organizations. Some examples of exciting projects I have worked on through D3M Labs: Productizing predictive analytics that help customers better maintain their hardware, decision intelligence and communication effectiveness data and an ecosystem of vendors to help an organization track the effectiveness of their communication, intelligent automation to scale expert insight and more.
I look forward to connecting with more visionaries to combine their big ideas with insight, scaled with execution. Please get in touch. Elizabeth.Press@d3mlabs.de.
Look for more blogs, insights and shares about big ideas, analytics and artificial intelligence.
Photo source: Bigger is Better, Zach Dischner