How did you get the idea to start a company automating ETL processes?
I am a physicist and have been fascinated by software during my days at university. When I was working with scientific data, the majority of the time I spent preparing the data itself. Afterwards, when I was working with Deutsche Telekom, we spent the majority of the time making data available to our models, our algorithms.
Before I started Datuum, I was running an analytics company in Eastern Europe. Data integration took 90% of the time. I thought it was time to finally automate the work I was mondainly doing for many years. It was finally time to be able to understand what is what while preparing the data in semantic, human-like, terms. Datuum uses AI to connect data sources with target models, automate mapping, and make data integration less time-consuming and less expensive.
What gave you the idea to use this type of algorithm?
We used a Sherlock model deeply modified by our team (https://arxiv.org/abs/1905.10688). In fact, I went through about 60 different papers in that area, this one looked like the most promising approach. This is discussed in detail in the article by Datuum's co-founder Leonid Nekhymchuk.
What did your life look like before the war?
Before the invasion, I was living in Kharkiv with my family. When the full-scale war started we moved to Lviv.
I lived in Kharkiv in a house in a suburb with 3 dogs, 3 cats, and 4 kids, well 3 kids in the house. It was a nice house. My son moved to his place exactly 2 weeks before the war. My oldest daughter studies neuroscience in Newcastle.
My son decided to stay in Kharkiv after we left. He is in a group of volunteers helping civilians on the deoccupied territories survive.
How did you and your family experience the beginning of the full-scale war?
We couldn't leave immediately, because we lived in a place that was in the crossfire. That is in the outskirts on the north side of Kharkiv. Russians were attacking the city from both sides and the roads were closed from both sides as well. If I lived alone, I would squeeze out somehow. With kids, however, it was too risky. We couldn't leave until three weeks into the war.
We were stuck in our basement with fourteen other people. Our relatives from the city came to our house, because it was a much safer place. Thankfully, we had a well-ventilated basement and stocked up on canned food, so we knew we could survive there for a few months.
At one point, while I was looking out the window, I saw tanks a few kilometers away from my home. I talked it over with my wife, whether we should take a chance and leave or stay and remain in the safety of our house. We decided to leave and take our chances.
We took 7 people with us and the other 7 remained at our house. We spent 3-4 days on the road until we reached Lviv. Normally it is a 10-hour drive.There was a lot of traffic congestion on the roads, and roadblocks with inspection points set up to identify those who might be supporting Russia's invasion. Everyone had to go through the checking process, causing a significant traffic jam.
Luckily the house was not hit in the meantime. Our relatives who stayed behind remained at the house for a few months. When the situation became safer and calmer, most of my family relocated to Kyiv. My son and brother-in-law decided to stay and volunteer.
Our cats traveled in the car with us. However, our three huskies are currently staying at a "hotel for dogs" in a rural area not far from Poltava, as we do not have a suitable place to keep them comfortable.
How did you manage to keep on working on Datuum through the war?
When we got to Lviv, we frequently heard air raid sirens. Every time the air raid siren started, we had to get the kids ready and quickly make our way down the stairs to a safe place. Eventually, I would sit in the bathroom with no windows and continue working. I didn't want to lose time.
How does growing a startup in the midst of war shape the company?
I had higher expectations of our productivity for 2022. Our team was often unavailable during certain periods of time. Once the Russians bombed our energy infrastructure, it caused significant disruptions.
My main challenge was that my mind was divided between building the business and the technology and how to provide more helpful stuff to people in Ukraine. That means that half of me was dedicated to building the company, which impacted my efficiency.
I do think we are now on a good track: our supply chains are working well,financing is coming in. Now I can focus on developing and growing the company.
Did you stay in Lviv, Ukraine?
No, we drove to Portugal.
In Portugal there are about half a million Ukrainians now, most of them drove here. Here, in the parking near our office building, a third of the cars have Ukrainian number plates.
The main reason for our decision to leave Ukraine was due to our kids and their education. I wanted them to go to school in September. By the middle of the summer, I understood that the war would not come to an end by September. Therefore we had to make a decision.
How was the drive from Lviv, Ukraine to Lisbon, Portugal?
We went Lviv-Warsaw- Potsdam- Liège- Paris – Arcachon- Toro – Lisbon. We didn't want to exhaust the children with a long trip. Kids get bored in the car, and I did not want to overwhelm them.
Is there a data scene in Ukraine now, during the war?
On Friday, close to my place of residence, I met an Irish guy who started a company and hired programmers in Kyiv 9 months ago, even though the full-scale war had already commenced.
To keep all military people serving supplied with food and equipment, the non-combatant people must work and pay taxes. It is vital that Ukriainians come together, and contribute. It's one of the most significant ways that those who are not on the front lines can help
What are your hopes for the future of your country and for your family?
I dream about the day when I can return home and watch my kids grow up safely and visit their school in Kharkiv.
I am not sure that will be possible in the next few years, because Kharkiv has been suffering from missile attacks and damage. Even if this war were over tomorrow, it would take several years to rebuild the city.
What is happening now is a real war for independence.
What are your hopes for your company, Datuum?
I founded this company, because I've seen the trends in the IT world and how business and scientists are using the data. If Datuum won't solve the problem of expensive data preparation, somebody else will do it anyway.
It is not feasible to handle data as we have in the past. The amount of data will make manual data preparation unmanageable. I hope we will pioneer in the effort to enable pipeline management through a no-code platform that uses language that is easily understood by humans.
You can speak to your phone and it will respond. Chat GPT can write papers, pass exams and do fancy stuff like writing songs. We already have enough technology, data, and computational power to use AI to generate and define data pipelines.
What are some parts of the recipe for your success?
My dad taught me that if you are doing something, do it as best as you can. Compare yourself to your past self, rather than others. This principle rings especially true in today's age of social media, where platforms like Tiktok and Instagram have led many young people to constantly compare themselves to others.
I am fulfilled and happy, because I follow these two simple things.
Who is Dmytro Zhuk?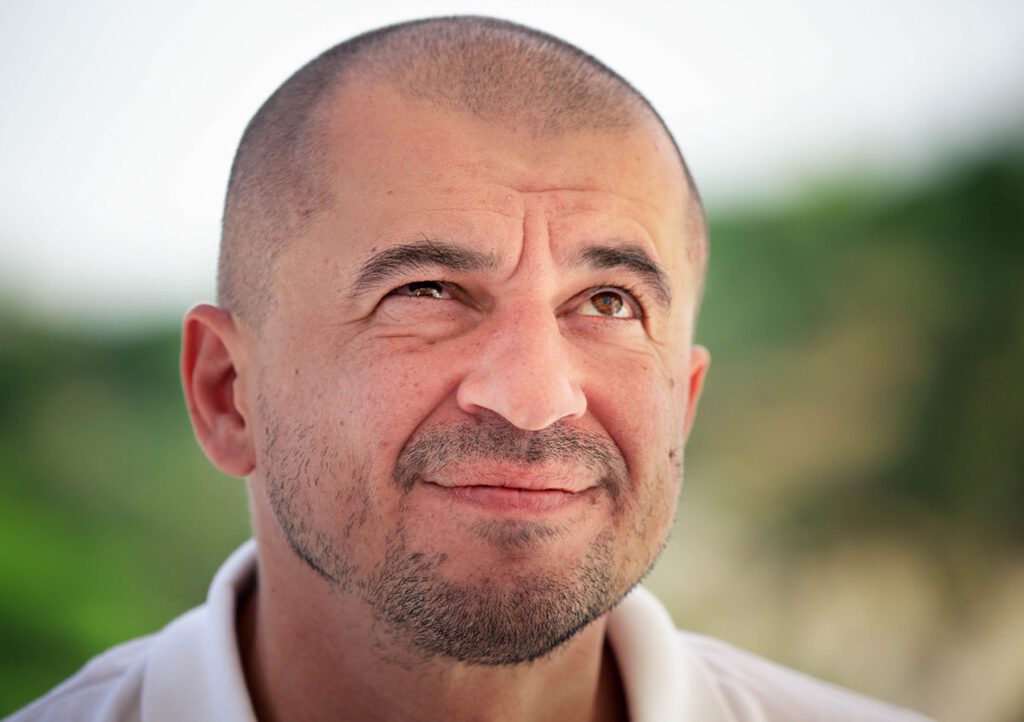 Dmytro Zhuk is Founder & CTO at datuum.ai, he is also a visionary leader and sees a bigger picture of AI, its potential, and its role. He is a passionate advocate of the data-driven approach in every aspect of the business.
Dmytro is a serial entrepreneur with 20+ years of experience in business and data projects. Among other ventures, Dmytro is a co-founder and ex-CTO of one of the prominent Ukrainian IT consultancy companies Sigma Software Group.
Related links
Tabular Data is a Challenge, LinkedIn Article by Datuum's co-founder Leonid Nekhymchuk
Is scary data pipeline debt haunting your business? – A D3M Labs post
Some organizations that you can donate to for humanitarian aid to Ukraine. These organizations exist within Germany and internationally as well.